PRODUCTS From Wired to Wireless From Edge to Core
AS4600-54T with DCSS
1GbE TOR Switch with L2 L3 Software
AS4600-54T has 48-port GE RJ45 + 4x10G SFP+ uplinks with two optional modules - not included, DCSS Layer 2 software. AS4600-54T embedded Broadcom Apollo2 168Gbps with dual 110-230VAC 300W PSUs included and power-to-port airflow. AS4600-54T is 3-year Hardware Warranty.

**AS4600-54T Warranty Support Period: 3 years.**
**The product has completed the End of Life (EOL) process effective on June 30, 2016**
** For more details, please refer to item #8 in the Product Warranty Statement.**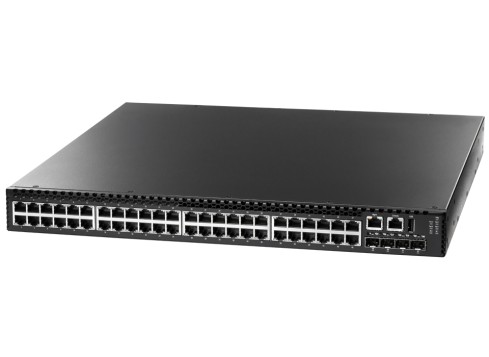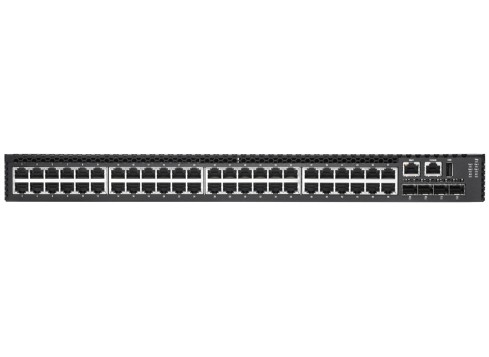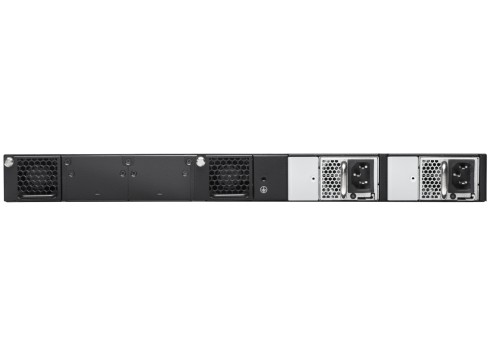 Overview
The AS4600-54T is a high-performance Gigabit Ethernet Layer 3 switch, with 48 RJ-45 GbE ports, 4 x 10 GbE SFP+ ports, and two module slots each with 40 GbE bandwidth for additional uplinks. The switch provides the high-availability features required in a data center top-of-rack switch, including redundant hot-swappable AC PSUs, hot-swappable redundant fans, and port-to-power or power-to-port airflow options. The two expansion module slots accept 1 x 40G QSFP modules to provide two 40G ports or eight 10G ports through breakout cables. This additional bandwidth makes the switch ideal for applications mixing 1 GbE and 10 GbE nodes in a rack, or to support 40G uplinks to a spine network.

AS4600-54T switching software is designed for large data center fabrics supporting tens of thousands of dual-stack IPv4/IPv6 servers. The switch provides a full set of Layer 2 switching features used for aggregating servers within a rack, or across an easily managed medium-sized data center fabric. A full set of IPv4 and IPv6 routing features, including ECMP, OSPF, and BGP, supports integration with a large Layer 3 data center fabric.
Features
Cost effective, white-box network infrastructure for data center racks.
1 GbE connection to server and storage nodes in rack, with 10 GbE uplinks to spine network.
48 x 10/100/1000BASE-T RJ-45 ports
4 x SFP+ uplink ports, supporting 10 GbE (DAC, 10GBASE-SR/LR/ER/LRM) or 1 GbE (1000BASE-T/SX/LX).
1 x 40G QSFP port on the option module supports 40 GbE (DAC, 40GBASE-SR4/LR4) or 4 x 10 GbE (DAC or fiber breakout cable).
Full line-rate L2 or L3 forwarding of 336 Gbps
Support hot/cold aisle with port-to-power and power-to-port airflow SKUs.
Hot-swappable, load-sharing, redundant AC PSUs
Hot-swappable, redundant fans
Layer 2 Switching: VLANs, COS, LAG.
Converged Enhanced Ethernet: DCBX, 802.1Qbb PFC, 802.1Qau QCN, 802.1Qaz ETS, FCOE forwarder.
Layer 3 IPv4/IPv6 Switching: 32-way ECMP, OSPFv2, OSPFv3, BGP-4, VRRP. Requires L3 software package.
QoS: 802.1p, DiffServ, ACLs, SP/WRR/WFQ scheduling, WRED.
Management: Console and management RJ-45 ports; USB port for file transfers on port side.
Industry standard CLI, SNMPv1/2/3, AAA.
Downloads
| Category | File Name | Version | Release Date | File Size | Download |
| --- | --- | --- | --- | --- | --- |
| Datasheet | AS4600-54T DCSS | US | 2016-04-21 | 1410.86 KB | Download |