PRODUCTS From Wired to Wireless From Edge to Core
AS5512-54X
720G Data Center Switch
The AS5512-54X provides full line-rate switching at Layer 2 or Layer 3 across 48 x 10GbE ports and 6 x 40GbE uplinks. The switch can be deployed either as a Top-of-Rack switch, or as part of a 10GbE or 40GbE distributed spine, forming a non-blocking folded-Clos data center fabric.
★​Available in Taiwan and China only.


**AS5512-54X Warranty Support Period: 3 years.**
**The product has completed the End of Life (EOL) process effective on Dec. 1, 2021**
** For more details, please refer to item #8 in the Product Warranty Statement.**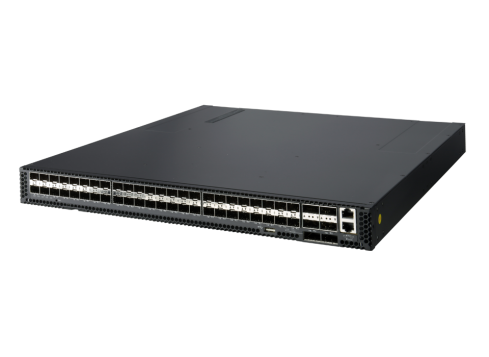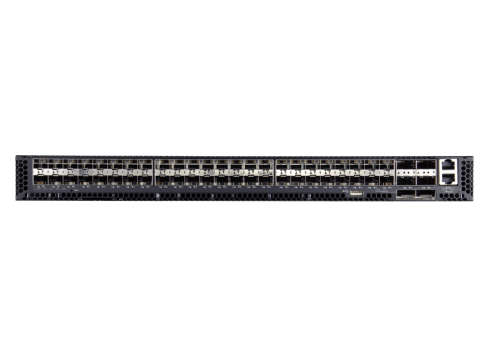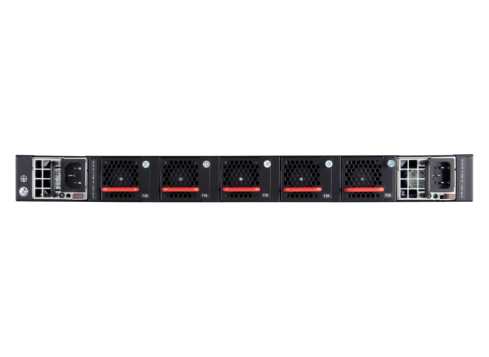 Overview
The Edgecore AS5512-54X switch meets the high-performance, availability, and network-scaling requirements of enterprise and cloud data centers. The AS5512-54X provides full line-rate switching at Layer 2 or Layer 3 across 48 x 10GbE ports and 6 x 40GbE uplinks. The switch can be deployed either as a Top-of-Rack switch, or as part of a 10GbE or 40GbE distributed spine, forming a non-blocking folded-Clos data center fabric. The switch is rack mountable in either a standard 19 inch rack, or with the Open Rack Switch Adapter in a 21 inch Open Rack.

The AS5512-54X hardware provides the high availability features required for data center operation, including; redundant, hot-swappable AC or -48 VDC PSUs or 12 VDC power input; fan tray with 4+1 redundant fans; and port-to-power or power-to-port airflow options. The AS5512-54X is an ideal Top-of-Rack switch for virtualized data centers, with its support of VXLAN and NVGRE tunneling functions in hardware.
Specs
Ports
48
Predominant Port Type
10GbE SFP+
High Availability
Redundant Power Supply
Redundant Fans
Features
Cost-effective infrastructure for data center fabric.
48 x SFP+ switch ports, supporting 10GbE (DAC, 10GBASE-SR/LR) or 1GbE (1000BASE-T/SX/LX).
6 x 40 QSFP switch ports, each supporting 40GbE (DAC, 40GBASE-SR4/LR4) or 4 x 10GbE (DAC or fiber breakout cable).
Port grouping of 4 x 10G ports into one 40G port at the physical layer for maximum bandwidth utilization, and for 300m optical reach over MMF.
Full line-rate Layer 2 or Layer 3.
Flexible operation mode support: legacy/SDN mode and Hybrid mode
Support VM Switching, VXLAN and NVGRE tunneling support in hardware for network virtualization.
Rack mountable in standard 19" racks. Mountable in 21" Open Rack with the Open Rack Switch Adapter.
Supports hot/cold aisle with port-to-power and power-to-port airflow SKUs.
All ports on front; PSUs, fan tray on rear.
Hot-swappable, load sharing, redundant AC or -48 VDC PSUs. 12 VDC power input option.
Hot swappable 4+1 redundant fans.
Management: Ethernet and console RJ-45 ports; USB storage port.
Hardware switch pre-loaded with Open Network Install Environment (ONIE) for automated loading of compatible independent SwitchOS software.
Compatible with EstiNOS 2.0 and later version from EstiNet Technologies Inc.
CPU and memory subsystem provided on factory-pluggable internal module for flexibility – AS5512-54X SKUs with Intel™ Atom® C2538 x86 processor, to allow switch to run scripts and applications built with standard Linux tools.
Downloads
| Category | File Name | Version | Release Date | File Size | Download |
| --- | --- | --- | --- | --- | --- |
| Datasheet | AS5512-54X DS R03 | US | 2021-05-07 | 165.94 KB | Download |