PRODUCTS From Wired to Wireless From Edge to Core
ECS2020-28P
10/28 GIGABIT WEB-SMART ETHERNET SWITCH
The ECS2020 is designed for SMB and enterprise markets and provides a complete solution from 10/28-ports, including both non-PoE and PoE options. The ECS2020-28P delivers a default 190 W of PoE power to support future IP cameras, IP telephones, or access points.

★​ AVAILABLE ONLY ON CERTAIN PROJECTS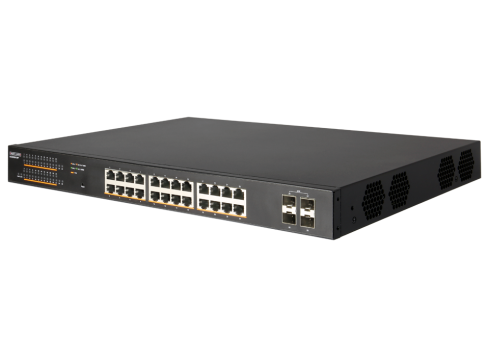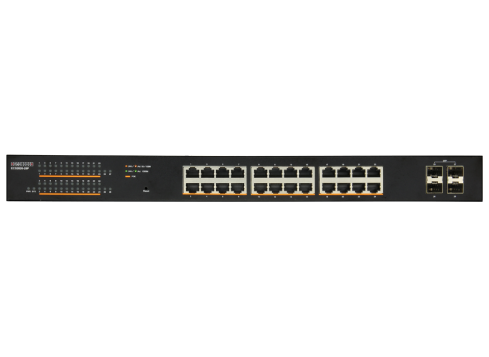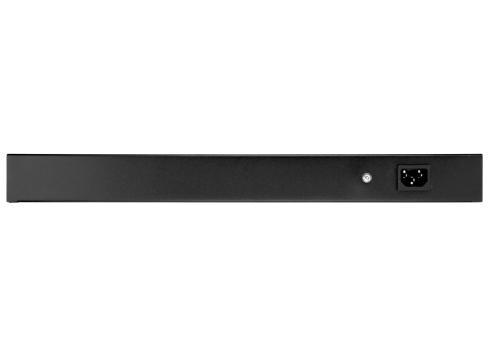 Overview
The ECS2020 Series is Edgecore's latest generation cost-effective web-smart switch solution. The ECS2020 is designed for SMB and enterprise markets and provides a complete solution from 10/28-ports,
including both non-PoE and PoE options. The switches comply with the IEEE 802.3az Energy Efficient Ethernet standard. Support for IPv4 and IPv6 management and features ensures your network can upgrade from IPv4 to IPv6. The ECS2020 Series offers complete PoE solutions from 70 W to 190 W. All the switches are rack mountable. The ECS2020-10P is a fanless design PoE switch that supports up to 4 ports at 15.4 W, or 2 ports at 30 W to meet the increasing power demands of users. The ECS2020-28P delivers a default 190 W of PoE power to support future IP cameras, IP telephones, or access points.
Specs
Ports
24
Predominant Port Type
Gigabit Copper
Gigabit Fiber
Switch Type
Fixed Port
Routing/Switching
Layer 2
Features
PoE
IPv6 Management
Compatible Transceivers
1000BASE SX/ LX/ EX/ ZX
1000BASE-T RJ45
Features
Support 2/4 integrated Gigabit SFP ports. Besides providing more uplink bandwidth, the SFP ports can be used for redundant links.
Operate at a temperature from 0-50ºC.
Supports automatic voice/surveillance VLANs, providing VoIP and IP cameras the optimum network traffic usage.
4KV Surge Protection
IGMP/MLD snooping manages multicast streams to ensure high-quality, smooth video.
Supports Web, SNMP v1/v2c/v3, and Telnet management to provide CLI access. The switch supports a private MIB for detailed information.
Downloads
| Category | File Name | Version | Release Date | File Size | Download |
| --- | --- | --- | --- | --- | --- |
| Datasheet | ECS2020 Series DS R07 | US | 2021-01-27 | 4984.9 KB | Download |
| User Manual | ECS2020 Series Web Management Guide R04 | US | 2021-07-29 | 11991.69 KB | Download |
| User Manual | ECS2020 Series CLI Reference Guide R04 | US | 2021-07-29 | 3524.73 KB | Download |
| Notice | ECS2020 V1.0.2.11 SWR Release Note | US | 2021-07-29 | 892.17 KB | Download |
| Firmware | ECS2020-28P v1.0.2.11 | US | 2021-07-29 | 6664.1 KB | Download |