PRODUCTS From Wired to Wireless From Edge to Core
ECS2100-28P
Gigabit Web-Smart Pro PoE Switches
ECS2100-28P is a Web Smart Pro Switch, it supports 24 x GE PoE+ ports and 4 GE SFP ports . The PoE Budget is max.200W. ECS2100-28P provide up to 30 Watts of power to attached devices, such as VoIP phones, wireless access points, and surveillance cameras, all over existing Ethernet cables.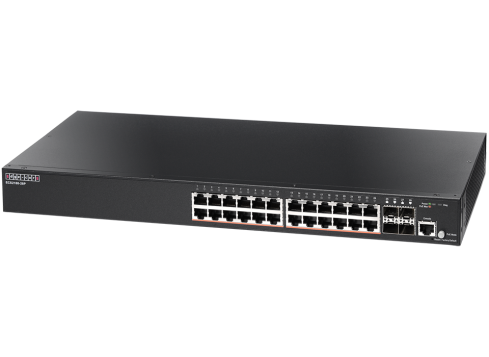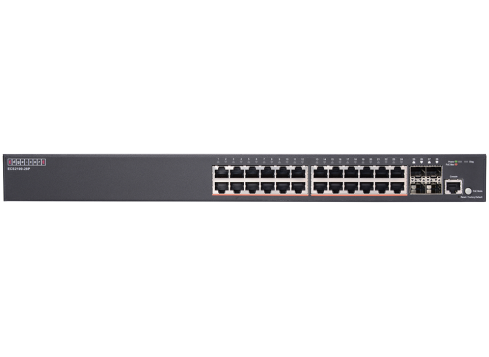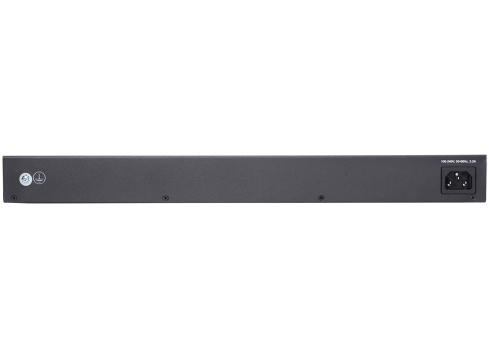 Overview
The ECS2100 Series is Edgecore's new combination web-smart and L2 managed switch advantage. The ECS2100 Series takes web-smart cost-effective switches and provides plenty of management options, such as a console port on the L2 managed switches. With powerful soſtware and hardware features, the ECS2100 is designed for SMB and enterprise markets and provides a complete solution, including both non-PoE and PoE options.

The ECS2100 Series offers complete PoE solutions from 65 W to 370 W. The ECS2100-10PE is the most compact (height: 2.65 cm) managed PoE switch design, a cost-effective PoE switch with powerful soſtware and security features. The switch can be mounted in many small spaces, on a wall or in a rack. The ECS2100-10P is a full-PoE fanless design switch, it supports up to 8 ports at 15.4W, or 4 ports at 30 W to meet the increasing power demands of users. The ECS2100-28PP is a PoE switch, it delivers a default 370 W of PoE power to support future IP cameras, IP telephones, or access points.

The ECS2100 Series supports 8, 24, and 48 10/100/1000BASE-T ports, with each switch supporting 2 or 4 Gigabit SFP ports.

As well as IPv4 and IPv6 features, the ECS2100 Series supports L3 static routing. The ECS2100 Series includes the best green-saving technologies (IEEE 802.3az and Green-Ethernet). Using the Energy Efficient Ethernet standard, the switch automatically decreases power usage when network traffic is low.
Specs
Ports
24
Predominant Port Type
Gigabit Copper
Gigabit Fiber
Switch Type
Fixed Port
Routing/Switching
Layer 2
Features
PoE
IPv6 Management
Cloud Management
ecCLOUD
Compatible Transceivers
1000BASE SX/ LX/ EX/ ZX
1000BASE-T RJ45
Features
2.65 cm high wall-mountable design (ECS2100-10PE)
Fanless design (ECS2100-10T/P/PE/28T)
Up to 370 W PoE (ECS2100-28PP)
Dual firmware/configuration
IPv4/IPv6
IEEE 802.3az
L3 static routing
Console port
PoE timer
Dashboard
Auto firmware upgrade
Cloud Management - ecCLOUD
Downloads
| Category | File Name | Version | Release Date | File Size | Download |
| --- | --- | --- | --- | --- | --- |
| Notice | ECS2100 Notice (Read Me First) | US | 2017-01-16 | 335.45 KB | Download |
| Datasheet | ECS2100 Series DS R07 | US | 2022-02-20 | 545.97 KB | Download |
| Datasheet | ECS2100 Series DS R03.9 | Portuguese | 2018-08-01 | 2740.19 KB | Download |
| User Manual | ECS2100-28P Quick Start Guide-R04 | US | 2023-03-01 | 1653.87 KB | Download |
| User Manual | ECS2100-28P Installation Guide-R03 | US | 2018-10-09 | 3724.73 KB | Download |
| User Manual | ECS2100-28P Installation Guide-R03 | Portuguese | 2018-10-24 | 2684.15 KB | Download |
| User Manual | ECS2100-28P Web Management Guide-R07 | US | 2021-07-13 | 14730.44 KB | Download |
| User Manual | ECS2100-28P CLI Reference Guide-R07 | US | 2021-07-13 | 2894.64 KB | Download |
| Firmware | How to upgrade firmware from v1.1.2.0 to v1.2.2.x Procedure_v1.0 | US | 2018-10-29 | 707.11 KB | Download |
| Firmware | ECS2100 FW_V1.2.2.31 | US | 2021-07-13 | 19055.76 KB | Download |
| Firmware | ECS2100-V1.2.2.0_upgrade from v1.1.2.0 | US | 2020-06-02 | 13196.24 KB | Download |
| Safety and Regulatory Information | ECS2100 Series Safety and Regulatory Information R05 | US | 2023-03-01 | 539.11 KB | Download |