PRODUCTS From Wired to Wireless From Edge to Core
ES3510MA-DC
L2 Fast Ethernet Standalone Switch
ES3510MA-DC features 10 ports; with 8 x FE + 2 GE Combo (RJ45/SFP) ports, is a high-performance Fast Ethernet Layer 2/4 switch with Fanless Design. ES3510MA-DC is 10 inches installation Design with DC Version.

**ES3510MA-DC Warranty Support Period: 3 years.**
**The product has completed the End of Life (EOL) process effective on September 25, 2019**
** For more details, please refer to item #4 in the Product Warranty Statement.**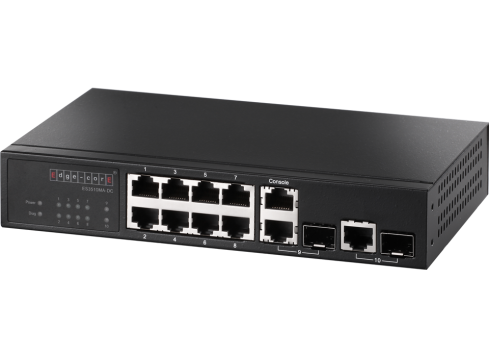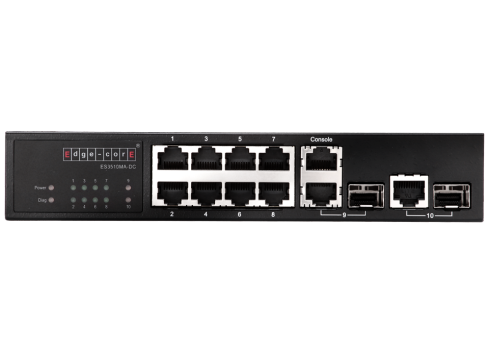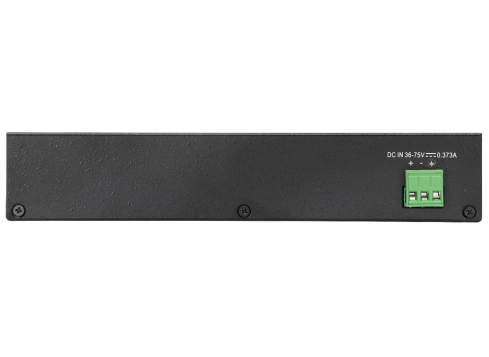 Overview
The Edge-Core ES3510MA-DC is a high-performance Fast Ethernet Layer 2/4 switch featuring 10 ports; 8 10/100 Mbps ports and 2 combination Gigabit Ethernet RJ-45/SFP (Small Form Factor Pluggable, dual-speed 100/1000 Mbps) ports. It is ideal for Fast Ethernet desktop connectivity and wiring closet installations. Using IP Clustering in a virtual stack of up to 36 switches, the whole stack can be managed as a single entity with a single IP address. This switch is packed with features and is a cost-effective solution that brings continuous availability, enhanced security, and advanced QoS to the network edge, while maintaining simplicity of management.
Specs
Ports
8
Predominant Port Type
Fast Ethernet Copper
Switch Type
Fixed Port
Routing/Switching
Layer 2
Features
Fanless
IPv6 Management
Features
Performance and Scalability with 5.6 Gbps switching capacity
Supports G.8032 Ethernet Ring Protection Switching, with the ability for the network to detected and recover from incidents without impacting users
Continuous Availability - IEEE802.1w Rapid Spanning Tree Protocol, IEEE 802.1s Multiple Spanning Tree Protocol, Multicast VLAN Registration (MVR), voice VLAN feature and IEEE 802.1Q-in-Q VLAN Tag.
Comprehensive QoS - Traffic is prioritized according to 802.1p, DSCP, IP precedence and TCP/UDP port number, giving optimal performance to real-time applications such as voice and video.
Enhanced Security with Port security limits, IEEE 802.1X port-based or MAC-based access control, Access Control Lists (ACLs), TACACS+ 3.0 Authentication for applications, Private VLANs and Secure Shell (SSH) and Secure Sockets Layer (SSL/HTTPS) providing secure network management.
Simple Management with an idustry-standard command-line interface (CLI), IP Source Guard, DHCP snooping and DHCP Option 82.
Downloads
| Category | File Name | Version | Release Date | File Size | Download |
| --- | --- | --- | --- | --- | --- |
| Datasheet | ES3510MA-DC | US | 2017-10-03 | 178.45 KB | Download |
| User Manual | ES3510MA-DC Installation Guide | US | 2016-06-08 | 1916.27 KB | Download |
| User Manual | ES3510 Management Guide R05 | US | 2019-03-06 | 21352.66 KB | Download |
| Firmware | ES3510MA FW_v1.5.1.3 | US | 2016-06-30 | 8921.69 KB | Download |
| Certification | ES3510MA-DC_CE | US | 2016-05-31 | 99.71 KB | Download |
| Certification | Edgecore RoHS Declaration ES3510MA-DC | US | 2016-06-29 | 296.91 KB | Download |