PRODUCTS From Wired to Wireless From Edge to Core
ECView Pro
Network Management System Software
ECView Pro Network Management System (NMS) is a full-featured, flexible management system that manages network elements in the element management layer.

ECView Pro NMS allows for the efficient management of element management systems that involves integrating multiple vendor equipment, management elements, and software applications.

An easy-to-use customizable interface enhances the sophisticated tools provided at every level of network management.


**ECView Pro Warranty Support Period: 90 days.**
**The product has completed the End of Life (EOL) process effective on May 1, 2021**
** For more details, please refer to item #8 in the Product Warranty Statement.**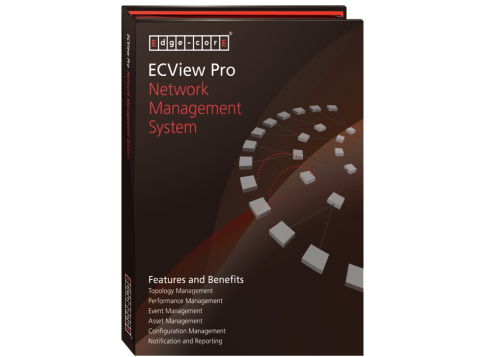 Overview
ECView Pro is Edge-Core's new generation network management system. It provides a scalable, comprehensive, distributed network solution that gives network managers the flexibility to manage mission-critical networks, as well as a single point for managers to provision Edge-Core and other vendor's network devices. ECView Pro discovers network devices and generates a TCP/IP topology map showing network inventory, monitors the status of each device in the network, correlates and manages simple network management protocol (SNMP) traps or sends emails when performance thresholds have been triggered, and generates reports in various formats. ECView Pro can also provision through mass deployment, such as scheduled configuration/firmware downloads and updates, monitor network health, and gather performance data.
Features
Topology Management - ECView Pro identifies network devices and produces a TCP/IP topology map where each device is represented by an icon.
Performance Management - ECView Pro provides an interface for administrators to monitor CPU and memory utilization for managed devices. RMON is supported to collect statistical data from devices and Port utilization of managed devices is also monitored.
Configuration Management - ECView Pro supports two levels of configuration management. The basic level provides a graphical interface to allow administrators to view or configure managed devices. The advanced level provides configuration and firmware upload and download capabilities.
Event Management - Events can be displayed as on-screen messages or saved into a database for later analysis. All event messages can also be exported to various file formats.
Asset Management - ECView Pro is an inventory-based system that shows the asset information for all devices in the network, including WMI devices, such as IP address, MAC address, vendor, model, system name, etc.
Report and Notification Management - Performance thresholds can be set under ECView Pro and when reached, causes traps or email messages to be sent out to notify the event.
Third-Party Device Management - The following discovery protocols are supported: LLDP, CDP (Cisco), FDP (Foundry), NDP (Nortel) and EDP (Extreme). Telnet, Web, and SNMP management interfaces are available for supported network devices.
MIB Compiler and MIB Browser - ECView Pro is able to manage a network device through the MIB Browser.
WMI Support - ECView Pro is able to indentify key hardware and software components on Microsoft network devices and monitor the status through WMI.