PRODUCTS From Wired to Wireless From Edge to Core
AS5600-52X
10GbE TOR or Spine Switch
AS5600-52X has 48-Port 10G SFP+ with 4x40G QSFP+ uplinks with ONIE software installer. AS5600-52X embedded Broadcom Trident+ 640Gbps and Freescale P2020 CPU as well as dual 110-230VAC 400W PSUs included and power-to-port airflow. AS5600-52X is 3-year Hardware Warranty.


**AS5600-52X Warranty Support Period: 3 years.**
**The product has completed the End of Life (EOL) process effective on June 30, 2016**
** For more details, please refer to item #8 in the Product Warranty Statement.**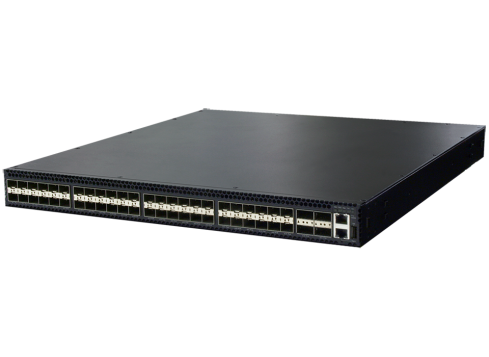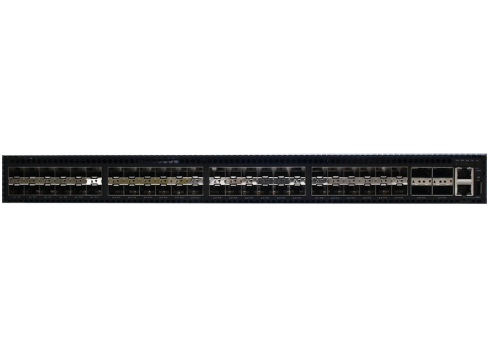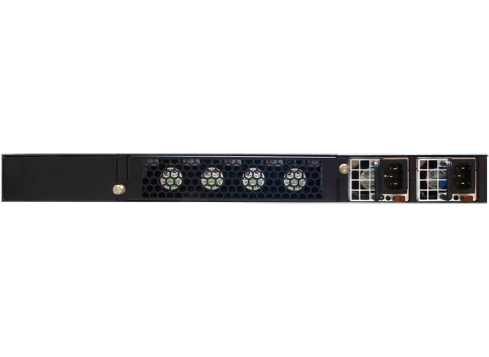 Overview
The Edge-Core AS5600-52X hardware switch meets the high-performance, availability, and network-scaling requirements of enterprise and cloud data centers. The AS5600-52X provides full line-rate switching at Layer 2 or Layer 3 across 48 x 10 GbE ports and 4 x 40 GbE uplinks. The switch can be deployed either as a Top-of-Rack switch, or as part of a 10 GbE or 40 GbE distributed spine, forming a non-blocking folded CLOS data center fabric.

The AS5600-52X hardware is designed for data centers, with a high port density of 64 x 10 GbE in a 1 RU enclosure; redundant, hot-swappable, load-sharing AC or 48 VDC* PSUs; fan tray with n+1 redundant fans; and port-to-power or power-to-port airflow options.
Specs
Ports
48
Predominant Port Type
10GbE SFP+
High Availability
Redundant Power Supply
Redundant Fans
Compatible Software Option
Open Compute Project - Open Network Linux
Pica8 - PicOS
Features
Cost-effective, bare-metal switch infrastructure for data center fabric.
48 x SFP+ switch ports, supporting 10 GbE (DAC, 10GBASE-SR/LR/ER/LRM) or 1 GbE (1000BASE-T/SX/LX).
4 x 40 QSFP switch ports, supporting 40 GbE (DAC, 40GBASE-SR4/LR4) or 4 x 10 GbE (DAC or fiber breakout cable).
Port Grouping to group 4 x 10G ports into one 40G port at the physical layer for maximum bandwidth utilization, and for 300m optical reach over MMF.
Full line-rate Layer 2 or Layer 3 forwarding of 1.28 Tbps
Supports hot/cold aisle with port-to-power and power-to-port airflow SKUs.
All ports on front; PSUs, fan tray on rear.
Hot-swappable, load-sharing, redundant AC PSUs. 48VDC* option.
Swappable fan tray with 3:1 fans.
Energy Efficiency: 196 W typical power consumption.
Management: Ethernet and console RJ-45 ports; USB storage port.
Hardware switch pre-loaded with Open Network Install Environment (ONIE) for automated loading of compatible independent SwitchOS software.
Compatible with Cumulus®Linux® r1.5.0 and later SwitchOS software from Cumulus Networks™.
Compatible with PicOS™ r2.4 and later version from Pica8 Inc.
Downloads
| Category | File Name | Version | Release Date | File Size | Download |
| --- | --- | --- | --- | --- | --- |
| Datasheet | AS5600-52X ONIE R04 | US | 2017-10-05 | 187.52 KB | Download |
| User Manual | AS5600-52X Quick Start Guide-R01 | US | 2016-06-29 | 657.64 KB | Download |
| Certification | AS5600-52X CE DoC | US | 2016-07-18 | 69.38 KB | Download |
| Certification | Edgecore RoHS Declaration - AS5600-52X | US | 2016-06-29 | 295.72 KB | Download |