PRODUCTS From Wired to Wireless From Edge to Core
DCS560 (QSFP-DD800)
51.2T DATA CENTER SWITCH
AS9817-64D
64 x QSFP-DD800 switch ports with Tomahawk 5
High-performance, low-latency switch for high-performance data centers

AI/ML use case

Low Latency

400G ZR/ZR+ Transceiver (max 24W)

High Radix

End-to-end congestion control

Dynamic Load Balancing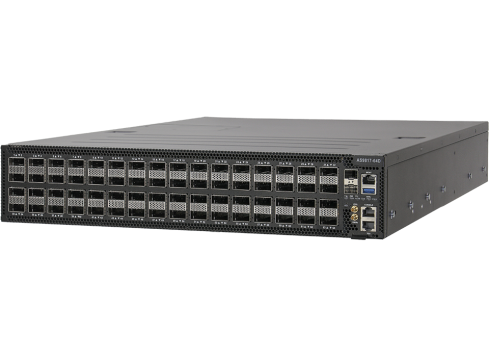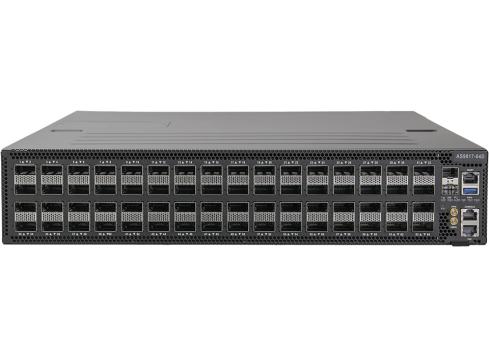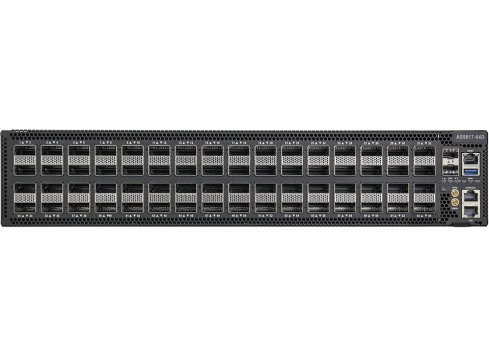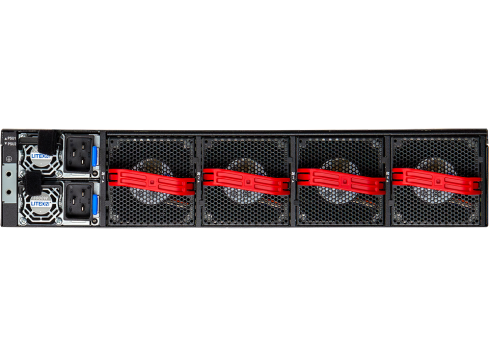 Overview
The Edgecore DCS560 is a high-performance, low-latency switch for high-performance data centers.

Application Scenarios:
Spine Switch: A next-generation, highest-capacity switch for data center spine use case. Breakout options include 2 x 400G, 4 x 200G, and 8 x 100G per port, with a maximum of 320 logical ports. Offers reduced cost and power per bit. Scalable and enables migration to 400G leaf connectivity in data centers.

AI/ML Clusters: Standards-based (Ethernet) networking for AI/ML training, leveraging low latency and high-throughput RoCEv2. Reduces Job Completion Time (JCT) using the cognitive routing and congestion management capabilities of the switch. Fully programmable telemetry enables sophisticated on-chip applications for heightened network insight and efficient network management.

High-Performance Computing: The large number of high-capacity Ethernet ports enables server interfaces to transition to higher speeds and denser networks. Enables the virtualization of compute and storage with VxLAN switching and routing.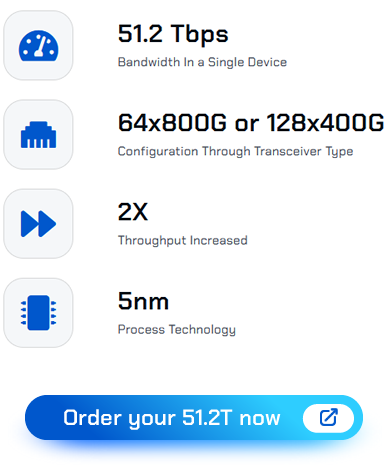 Specs
Ports
64
Predominant Port Type
QSFP-DD800
High Availability
Redundant Power Supply
Redundant Fans
Compatible Software Option
SONiC
Features
QSFP-DD800 switch ports, each supporting 1 x 800 GbE (100G PAM4), or via breakout cables 2 x 400G GbE, 4 x 200 GbE, or 8 x 100 GbE.

QSFP-DD800 switch ports also support 1 x 400 GbE (50G PAM4), 1 x 100 GbE (NRZ), and via breakout cables 2 x 200 GbE, 4 x 100 GbE, or 8 x 50 GbE.

Up to 24 W power budget per QSFP-DD800 port.

Incorporates Broadcom Tomahawk 5 switch series silicon.

Highest Radix: Up to 320 logical ports on a single chip, low latency

Cognitive/adaptive routing and dynamic load balancing

Advanced shared buffering

Programmable in-band telemetry

Supports end-to-end congestion control

Power efficient due to a monolithic 5nm die

Hardware-based link failover for network resiliency and reduced job completion time

Support for SRv6

BMC module with serial-over-LAN support

SyncE and PTP support with 1PPS, 10MHz, and ToD connectors on the front panel

Contains e-fuses to protect transceivers and internal components

Standby power mode

2 RU form factor

Supports hot/cold aisles with front-to-back airflow SKU.

All ports on front; PSUs and fans accessible from rear.

Hot-swappable, load-sharing, redundant 3000 W AC PSUs.

3+1 redundant, hot-swappable fan modules.

Hardware switch pre-loaded with Open Network Install Environment (ONIE) for automated loading of compatible open source and commerical NOS offerings.
Downloads
| Category | File Name | Version | Release Date | File Size | Download |
| --- | --- | --- | --- | --- | --- |
| Datasheet | DCS560 (AS9817-64D) DS R02 | US | 2023-10-26 | 3698.85 KB | Download |