PRODUCTS From Wired to Wireless From Edge to Core
AS7512-32X
100GbE Data Center Switch Bare-Metal Hardware
The Edgecore AS7512-32X provides line-rate L2 and L3 switching across to 32 x QSFP28 ports, supporting up to 32 x 40/100 GbE, 64 x 50 GbE, or 128 x 10/25 GbE connections.

**AS7512-32X Warranty Support Period: 3 years.**
**The product has completed the End of Life (EOL) process effective on January 1st, 2018**
** For more details, please refer to item #8 in the Product Warranty Statement.**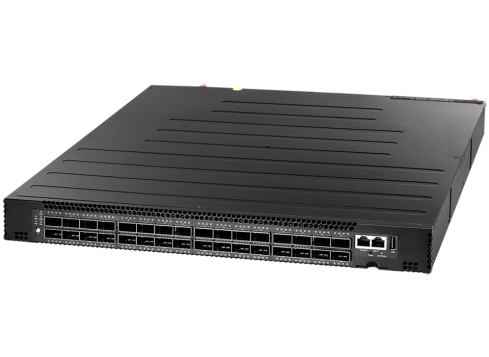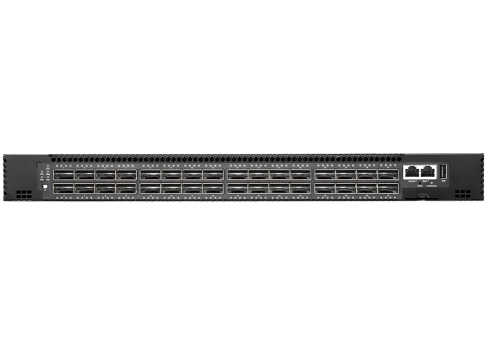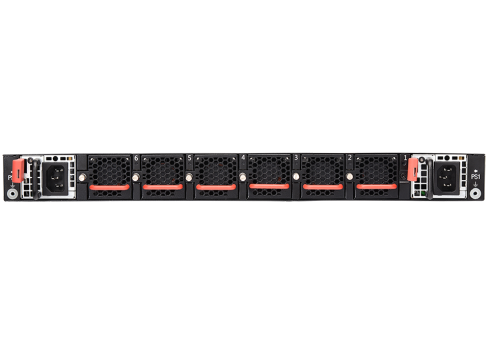 Overview
The Edgecore AS7512-32X switch is a Top-of-Rack (TOR) or spine switch for high-performance data centers. In a compact 1RU form factor, the switch provides line-rate L2 and L3 switching across to 32 x QSFP28 ports, supporting up to 32 x 40/100 GbE, 64 x 50 GbE, or 128 x 10/25 GbE connections. The AS7512-32X can be deployed as a TOR switch supporting 10/25/50 GbE to servers with 40/50/100 GbE uplinks, or as a spine switch supporting 40/50/100 GbE spine interconnects. The AS7512-32X is a bare-metal switch loaded with the Open Network Install Environment (ONIE) which supports the installation of compatible Network Operating System (NOS) offerings.
Specs
Ports
32
Predominant Port Type
100GbE QSFP28
High Availability
Redundant Power Supply
Redundant Fans
Compatible Software Option
Linux Foundation - OpenSwitch
Pica8 - PicOS
Features
Cost-effective, bare-metal switch infrastructure for data center fabric.
Deploy as Top-of-Rack switch supporting 10 or 25 GbE to servers, with 40 or 50 or 100 GbE uplinks.
Deploy as spine switch supporting 40, 50, or 100 GbE ToR and spine interconnects.
32 x QSFP28 switch ports, each supporting 1 x 100 GbE or 1 x 40 GBE, or via breakout cables, 2 x 50 GbE or 4 x 25 GbE or 4 x 10 GbE.
Layer 2 or Layer 3 forwarding of 6.4 Tbps. (full duplex)
Supports hot/cold aisle with port-to-power and power-to-port airflow SKUs.
All ports on front; PSUs and fans accessible from rear.
Hot-swappable, load-sharing, redundant AC or -48V DC or 12V DC PSUs.
5+1 redundant, hot-swappable fan modules.
Energy Efficiency: 370 W typical power consumption without pluggable optics.
Bare-Metal hardware switch pre-loaded with diagnostic and with Open Network Install Environment (ONIE) for automated loading of compatible open source and commerical NOS offerings. Compatible with Open Network Linux (ONL), an open-source, OCP reference NOS.
Supports Switch Abstraction Interface (SAI), the OCP abstraction layer for NOS interface to multi-vendor switch silicons.
Compatible with OpenSwitch the open-source NOS.
Compatible with future release of PicOS™ from Pica8, Inc.