ENTERPRISE SONIC DISTRIBUTION BY EDGECORE


Enterprise SONiC Distribution By Edgecore
Edgecore SONiC releases are open source and aligned with community SONiC. To avoid single vendor lock-in and accelerate the networking ecosystem, the SONiC system is deployable due to Edgecore's frequent contributions together with other players. Now, Edgecore's scalable SONiC solutions are successfully used in many cases from enterprise to high-performance computing. Edgecore can tailor a complete networking system as a solution, from switch hardware, firmware, NOS, connectivity, and applications. With advanced Edgecore SONiC solutions, various applications and features can be easily added and integrated based on your needs.


Why You Need To Choose a SONiC Solution


It is an open, production-ready, commercially deployable hardware-software design.
Edgecore provides integration with third-party offerings to help automate and validate the overall data center network.
SONiC Running on Trusted and Supportable Platforms

Edgecore supports SONiC across a full spectrum of platform bandwidths, including a choice of different Switch Abstraction Interfaces (SAIs) – from 1G to 400G and from leaf to super-spine layer switches.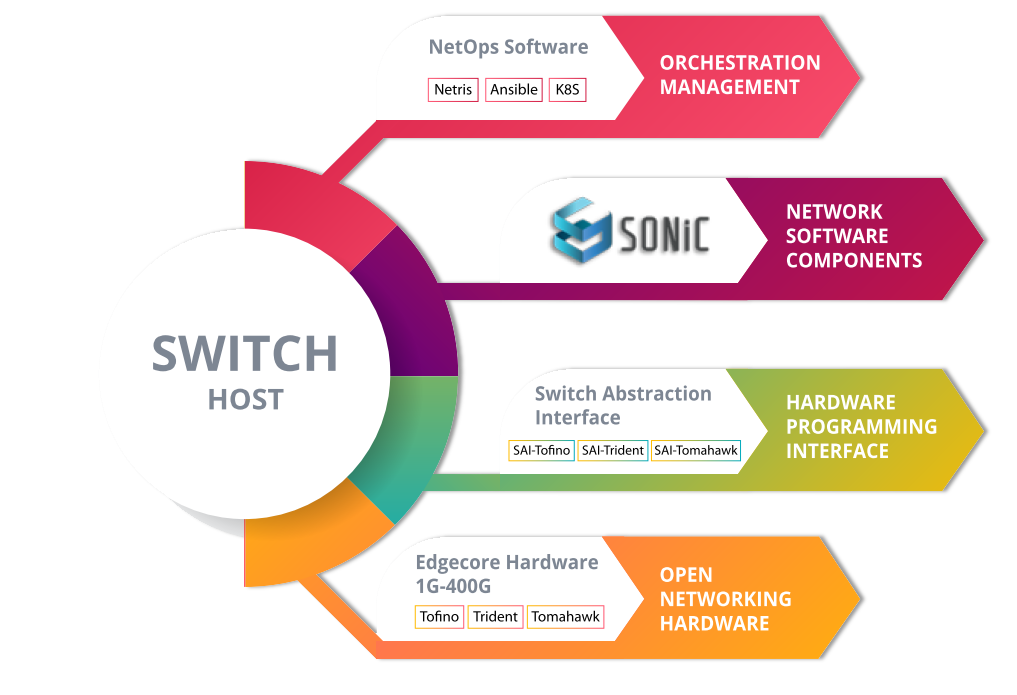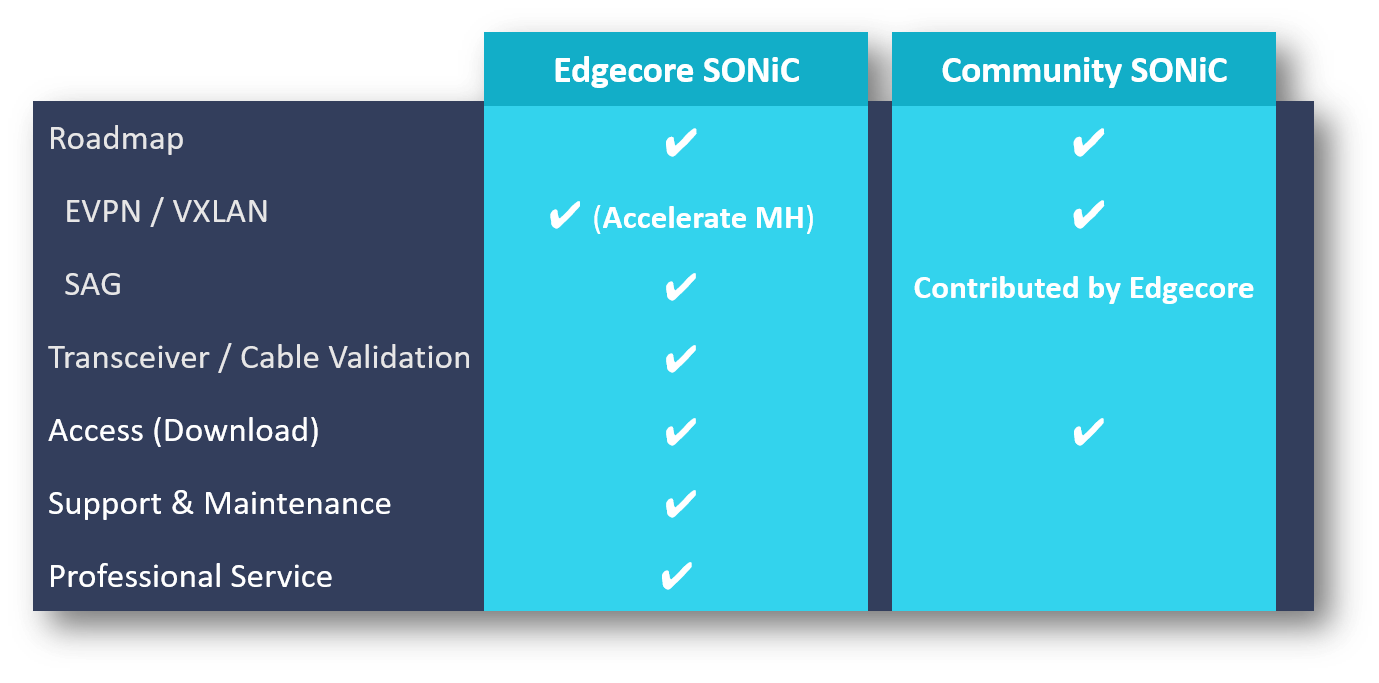 How is Edgecore SONiC different from Community SONiC ?

Edgecore releases its enhanced code to customers more frequently than the SONiC community.
Includes various applications, maintenance procedures, and complete support that tracks your needs.

Service and Support

Let Us Help You!

Edgecore Help Center has organized a SONiC support team to deal with the demanding inquiries and assist customers.
We have established a Knowledge Base from past questions on open firmware and the download section.


Plan & Design

Design support and review
Trial support
Validate & stage
Consult

Portability Deployment

Readiness assessment
Project management
Deployment assistant
Engineering experts

Hardware Support Service

Hardware maintenance
High quality and reliability
of repairs and spares
Advance RMA
Spare parts dimensioning support

Software Support Service

Emergency service
Software maintenance
Upgrade support
Expert services
Specifications

Layer 2
&
Layer 3

LACP, LLDP, MLAG, QinQ
Port Mirroring, STP/PVST, VLAN


BGP, BGP GR, BGP Graceful Restart Helper, BGP MP, BGP unnumbered, CRM, EVPN/VxLAN, EVPN MH, SAG, VRF, ECMP, IPv6, IS-IS, NAT, OSPF, Proxy ARP, VxLAN
Management and Monitoring Features

DHCP Relay Agent, DPB, SNMP, Management VRF, Telemetry, ZTP, Everflow, Fast Reload, gRPC, MTU Setting, NTP, OpenSSH / SCP / SFTP
RestConf, RoCEv2, sFlow, Thermal Monitor, Warm Reboot, Kubernets, PINS*

QoS
&
Security Features

ERSPAN, Shaping, Rate limit
PFC-WM, PFC-WD, Asymmetric PFC


ACL, COPP, TACACS+, Radius
Features

• Open NOS platform benefiting from large community of developers
• ALL changes contributed back to the community
• Supports multiple merchant switching silicon platforms
• Technical support provided by Edgecore for the full soſtware stack – drivers to applications
• Single point of contact for both hardware and soſtware support
• Management and Monitoring Features- PINS* is for DCS800 series and DCS810 only
Overview | Enterprise SONiC Distribution by Edgecore
It is a hardended, open distribution of SONiC (Software for Open Networking in the Cloud) which runs on Edgecore Open Networking switches. The SONiC Community is led by Microsoft and many key players, including Edgecore, to deliver a robus and proved software infrastructure to enable customer to build highly portable, scalable data center networks. Edgecore's SONiC distribution has been further tested and hardened to ensure production-ready deployment on Edgecore open networking platforms. Each release is based upon the latest community SONiC release to allow customers to work with an open community while also having confidence that the branch used for their deployments is robust and supportable. Edgecore's SONiC distribution is validated with a variety of optics and cables delivered from Edgecore as well as industry sources. This ensures that the overall system - switch hardware, NOS and connectivity are proven to work together, removing concerns about platform level interoperability.


SONiC Resources

The Complete User Guide To Understand and Plan Your Network

SONiC 202111 Supported Platforms